Cabinet Painter near Mesa
Welcome to our kitchen cabinet solutions page, where we specialize in three different services: cabinet painting, cabinet refinishing, and cabinet refacing. We are committed to providing high-quality services to ensure that your kitchen looks as beautiful as it should be. Read on to learn more about each service and why you should choose us for your kitchen cabinet needs.
Cabinet Painting
Our team of professional kitchen cabinet painters is equipped with the necessary tools and expertise to make your kitchen look as good as new. We use high-quality paint that is not only durable but also environmentally friendly. Our team pays attention to detail and takes extra care to ensure that every part of your cabinet is painted to perfection. We take pride in our work and make sure that every customer is satisfied with the finished product.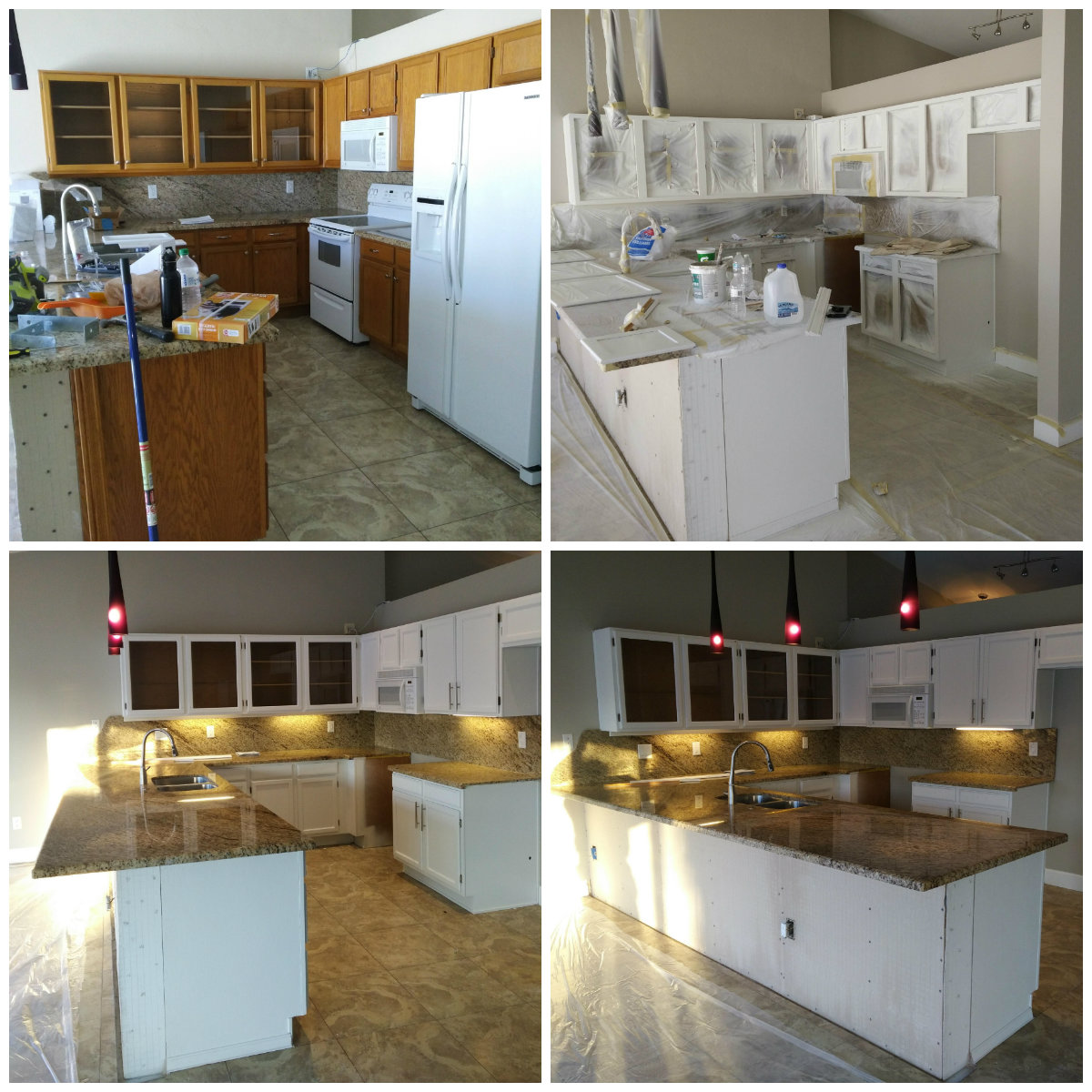 Cabinet Refinishing
Refinishing kitchen cabinets can transform your kitchen and bring new life to your old cabinets. We offer a range of cabinet refinishing services, including sanding, staining, and applying a clear coat finish. Our team will work with you to choose the best refinishing technique that fits your budget and taste. Refinishing your kitchen cabinets is a great way to give your kitchen a new look without breaking the bank.
Get a Quote
Call now at 480-217-8378 or use the form below to get a quote!
Why Cabinet Refinishing?
Resurfacing your existing cabinets is a win-win scenario...
Most pre-manufactured cabinets offer only a limited selection of designs and colors. Custom cabinetry designed and built by a master craftsman is highly expensive. With professional painting services, you receive unlimited stain, paint, and even new hardware choices without the need to destroy your budget or take out a home loan for a small remodeling project.
Save Money
Cabinet refinishing saves the homeowner up to 66%!
Save Time
Don't wait for demo and delivery, work can be started right away!
Save the Enviroment
By reusing your existing cabinets you help save our planet!

Cabinet Refacing
If you're looking for a way to change the look of your cabinets without completely replacing them, then cabinet refacing is the way to go. Our cabinet refacing service involves replacing the cabinet doors, drawer fronts, and hardware while leaving the cabinet boxes intact. This process can give your kitchen a brand new look at a fraction of the cost of a full cabinet replacement. Our team will work with you to choose the best materials and finishes to match your style and taste.
Let Us Help You
Are you ready to transform your cabinets? Contact us today to schedule a consultation with our team of experts. We offer competitive pricing and quality service that you can trust. Let us help you make your dream kitchen a reality.